Internet Family Safety
The Internet can be a wonderful resource for kids. They can use it to research school reports, communicate with teachers and other kids, and play interactive games. Kids who are old enough to punch in a few letters on the keyboard can literally access the world.
But that access can also pose hazards. For example, an 8-year-old might do an online search for "Lego." But with just one missed keystroke, the word "Legs" is entered instead, and the child may be directed to a slew of websites with a focus on legs — some of which may contain pornographic material.
That's why it's important to be aware of what your kids see and hear on the Internet, who they meet, and what they share about themselves online.
Just like any safety issue, it's wise to talk with your kids about your concerns, take advantage of resources to protect them, and keep a close eye on their activities.
This Is where Virtual Computer Repairs steps in and takes over your network for you giving you the tools and knowledge to block the unwanted to minimize any of the unsavoury, scarring you children and his or her friends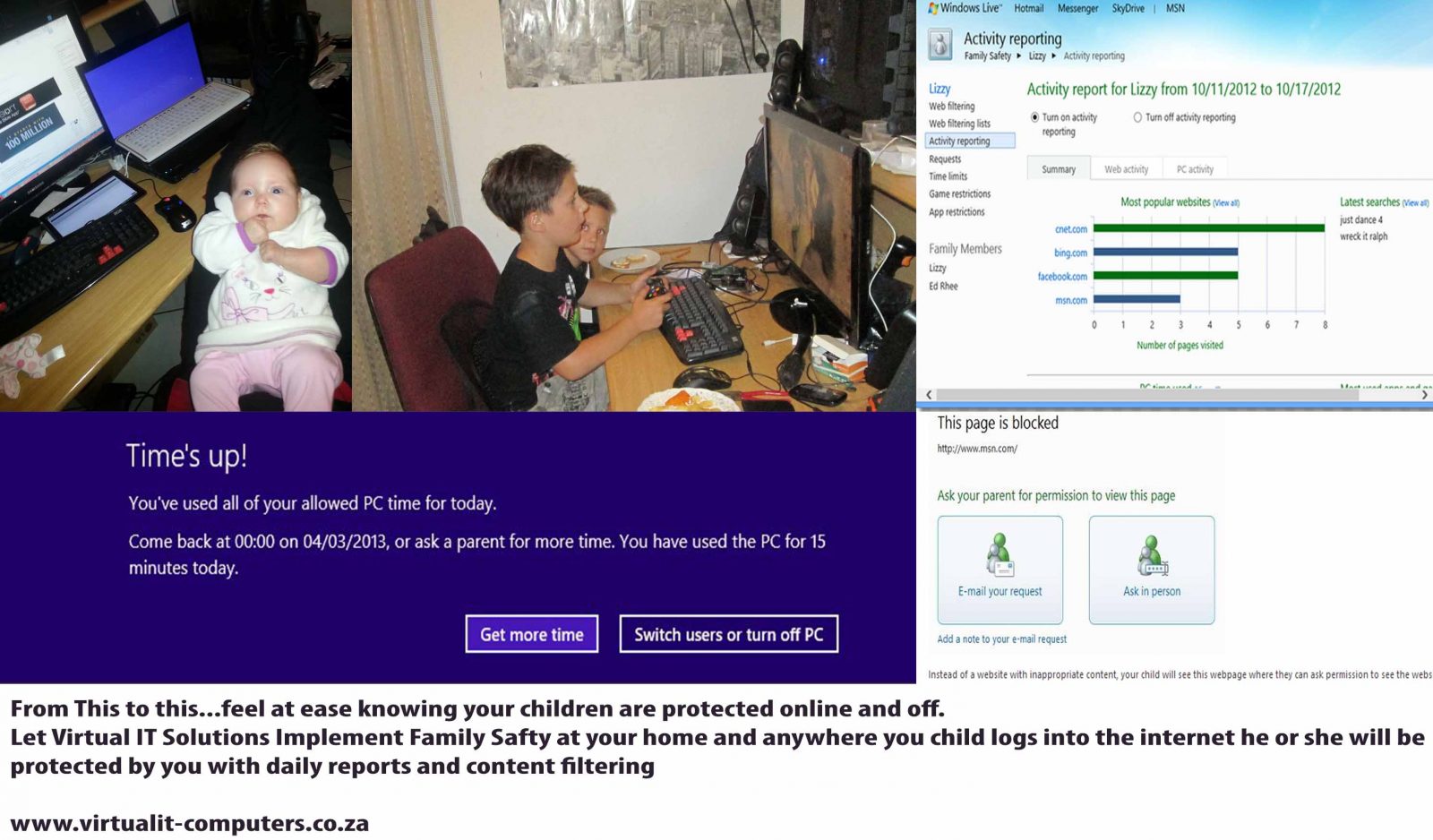 BASICS:
What we will impelement
A parental monitoring app to help make it easier to keep your kids safe online.  With Family Safety implemented, you can give them some independence but still keep tabs on their computer activities.  Family Safety allows you to:
See which websites your kids have visited, and which apps and games they've used
Block or allow websites, apps, games, or other content.
Limit the amount of time they can spend on the PC
Teach kids online security basics
If you're a parent, you can help your kids use the Internet safely by teaching some basic rules. Here are some basic lessons that parents can help their kids learn.
Encourage kids to keep passwords secret

Help your kids use social networking safely

Beware of online fraud
For the Technical minded – WHAT Virtual Computer Repairs will setup for you:In Family Safety
Features implemented
Web Filtering – Family Safety has a Windows Filtering Platform driver to filter web browsing. This works on all browsers, filters in 18 different languages, and contains the following levels:

Allow List Only – Only allows websites that a parent has added to the Allow list.
Child-Friendly Sites – Above plus allows a list of websites designed for children has a listing of the more popular kid sites and allows the user to search the entire list of kid sites.
General Interest – Blocks social networking, web mail, web chat, and adult sites.
Online Communications – Blocks adult sites, like Facebook, Adult Swim and Southparkstudios.com
Warn on adult content – Allows all websites but warns when the site contains suspected adult material. This setting was designed for older children who are trusted to make good decisions when the web filter incorrectly categorizes a site.

Activity Reporting – Parents can obtain a list of the websites visited. In addition, computer usages time, programs run, files downloaded, and games run will be reported via Windows Parental Controls.
Lock SafeSearch on for Google, Bing, Yahoo!, and other popular search engines.
Control of Family Safety settings to set time limits, and game restrictions ala ESRB as well as general application restrictions.
Family Safety allows remote access to its features via the web interface. Windows Live Family Safety 2011 added support for using the web filtering/blocking controls without the child having a Windows Live ID.
Contact Management – Parents are able to create "allow" lists for Windows Live Contacts services such as Windows Live Messenger and Hotmail to help prevent their children from communicating with unknown contacts and instead only communicate with contacts that parents have approved. Alternatively, parents can just monitor who the child has on their allow list. This was added for Windows Live Messenger 8.5.
Family Safety blocks InPrivate browsing in Internet Explorer 8 and 9.
Image Filtering – Family Safety has a filter which looks for adult content in images. The filter is only run on websites which do not do an adequate job of filtering the images and only on computers with sufficient performance capabilities. When an image is blocked, Family Safety blurs it out.
Please note:  If you grant your child access to multiple PCs, any time limits you set for them do not accumulate from one PC to another.  As an example, if you set your child's account for a time limit of two hours, they can use the 1st PC for two hours, and then sign into the 2nd PC and use it for an additional two hours.  Please take this into account when you are setting time limits.
Virtual Computer Repairs is committed to helping the fight against child pornography and other forms of abuse on the Internet with a three-pronged effort that includes:
Educating children and adult consumers and empowering them with the knowledge and tools they need to protect themselves while online;

Taking a role in partnerships with industry including law enforcement, to thwart child pornographers and predators and make the Internet safer for all;

Implementing technology and software to create a safer Internet by deterring cyber crime and enabling law-enforcement activities while respecting legitimate privacy needs.